Announcement | Webinar
Integrating FileMaker® with Office365
Maximize the potential of your collaborative tools
Access the recording "Overview of the integration of Office365 with FileMaker."
Microsoft Office365 Suite offers a Cloud Service Package which includes the standard office applications (Word, Excel, PowerPoint, etc.), communication (Outlook, Skype) and online collaboration (OneNote, SharePoint, Teams, etc.). Easy to use, this suite has robust security, reliability and control you need to manage your business.
On the other hand, the FileMaker® Workplace Innovation Platform allows you to design and deploy powerful custom apps to support and automate your operational and administrative processes to support your success. FileMaker integrates easily with Microsoft Azure External Authentication Service.
What if you could take it a step further by fully integrating your FileMaker custom apps with Microsoft Office365 Suite?
Attend our 30-minute webinar to learn how to integrate the FileMaker platform with Office365. We will go through a sample file showing how to retrieve and manipulate contacts and messages in a FileMaker application from an Outlook account configured with Microsoft Office365 online services.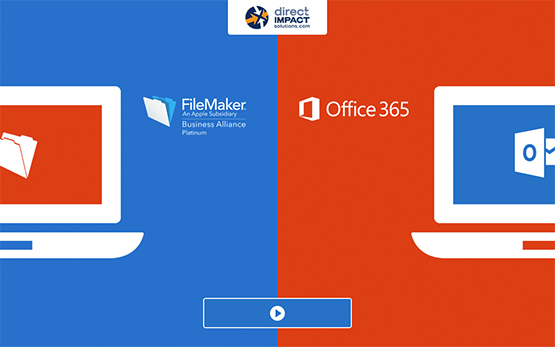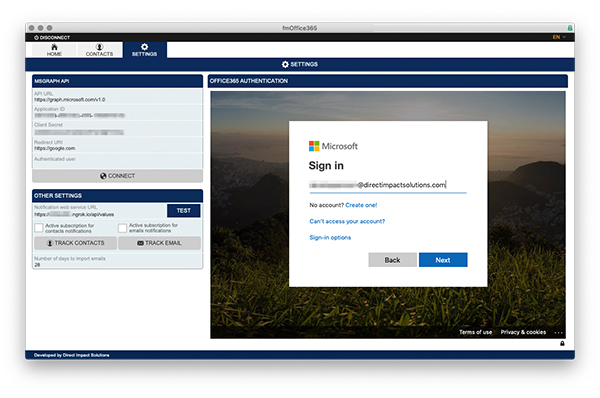 Sign up for our mailing list to receive communications
I agree to receive email communications from Direct Impact Solutions. Data will be used only by Direct Impact Solutions and will not be transferred, sold, rented or made available to a third party in any way.