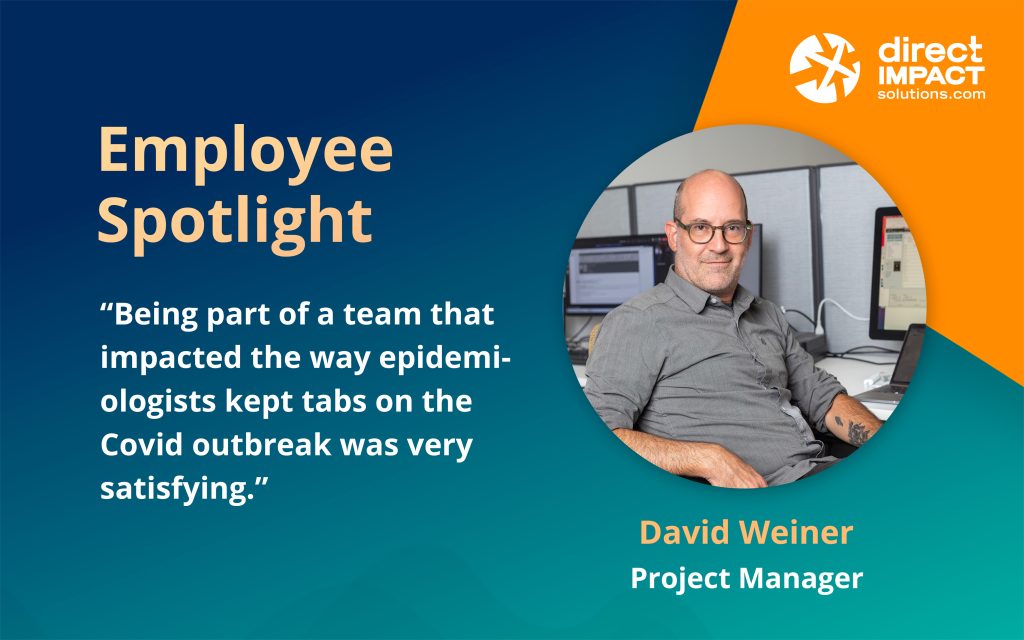 Imagine working in a field that you truly enjoy. One that makes you feel like you're contributing in a way that benefits the public. This is precisely how David Weiner feels about his position as Customer Success and Project Manager.
As an experienced developer, there's another side to David's role with Direct Impact Solutions. He helped build and continues to maintain a software solution for the Oregon Health Authority that keeps track of disease outbreaks in the state. This database system gained significant importance amidst the global spread of Covid-19.
"It was very important work," David admits with pride. "We were helping the state of Oregon battle the pandemic. Being part of a team that impacted the way epidemiologists kept tabs on the Covid outbreak was very satisfying."

Using Both Sides of the Brain
David's hybrid role as a Project Manager and Developer is never boring. As a manager, he enjoys making sure projects are executed properly from start to finish, ensuring all loose ends are tied up. As a developer, David gets to design, create, test and maintain applications. For him, this responsibility is very much like solving a puzzle. And like any puzzle, the end always comes with a sense of self-satisfaction.
While these two roles may be very different, they both require a strong, creative mind. As a self-taught musician and whiz in the kitchen—he loves to experiment with recipes—David is clearly the right fit for the job.
A Man with Many Interests
An avid gamer, skilled gardener and proud father to two teenagers, there's no doubt that David likes to keep busy. During his "down time" you can find him either writing and recording music with one of his many instruments, or in the kitchen whipping up one of his favourite creations. In his words, "I make a bada$$ bowl of ramen."