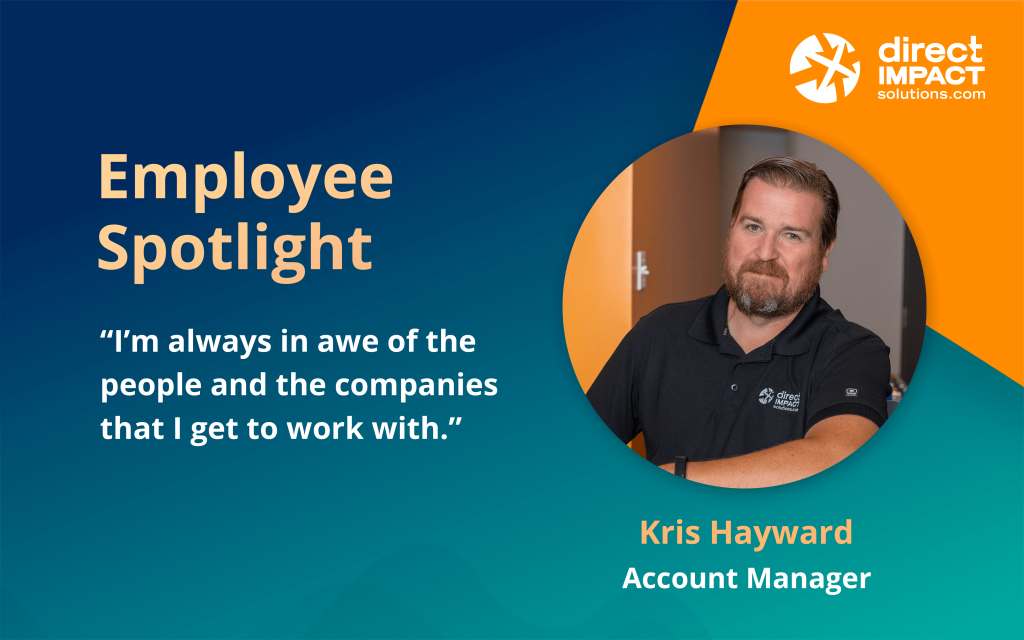 That's precisely what Kris Hayward focuses on when speaking with clients. As an Account Manager for Direct Impact Solutions, Kris knows what questions to ask in order to get his clients thinking. He also ensures that he involves them throughout the process. And isn't that what digital transformation is all about: working WITH your clients so you can find the best solutions? It's been said before, and we're happy to say it again: A true understanding of our clients' needs is an inside job.
Three years ago, Kris was working at CoreSolutions Software when it was acquired by Direct Impact Solutions. It was a no-brainer that he would come along. Given his 24 years of experience in the industry, as well as his in-depth understanding of what it takes to improve efficiencies and productivity, it was clear to all that Kris would continue to be an asset in the company's continued growth.
A Genuine Interest
Perhaps this is the secret to Kris' success. When asked what he loves most about his role as Account Manager, he was quick to respond:
"I learn something new every day, and I'm always in awe of the people and companies that I get to work with."
What fascinates Kris most is the realization that new companies emerge when someone with an entrepreneurial spirit takes a chance. Companies may initially be driven by a determination to achieve their vision, but they can only keep succeeding when the owner and stakeholders realize they need to figure out how to scale up. This means becoming aware of the challenges they could live with at one level, then as the workload increases, making the necessary changes to processes.
Since no two businesses or company needs are alike, coming up with a custom solution really does take a genuine interest and understanding.
A Curious Mind All Around
When Kris isn't helping his clients improve efficiencies through custom software, he enjoys hiking and feeding his fascination with history. Ask him anything about WWI or WWII and you can expect a deep conversation.